History seems to be repeating itself in the tragic events we see unfolding in Ukraine. As war devastates this eastern European nation, our hearts are stirred by the sight of destroyed houses and cities, lost lives, and millions of people forced out of their homes. Many who remain in their villages are left without the necessities of life, food, water, and clothing.
One hundred years ago, in 1922, the Messenger of Truth called on members of the Church of God in Christ, Mennonite to donate money to the humanitarian cause in Ukraine and once again we make the same plea to our brothers and sisters. Help the suffering people of Ukraine!
If you would like to help but aren't sure how, simply click on the link below to donate to a 501c3 nonprofit fund administered by a group of former missionaries to Ukraine in cooperation with Christian Service International (CSI) and the General Mission Board. If you prefer to donate by mailing a check, you may do so using the information provided on our Contact Us page.
The money goes to a variety of approved organizations and individuals helping distribute humanitarian aid in several regions of Ukraine. With your assistance, we can supply food, money, fuel, and vehicles to groups that directly assist people within the conflict zones and those who have fled.
Select "CLICK HERE TO DONATE" to contribute or select "CLOUDVEIL MESSENGER CHANNEL" to automatically receive updates on your Cloudveil Messenger/Telegram app.
Hope4Ukraine resource meter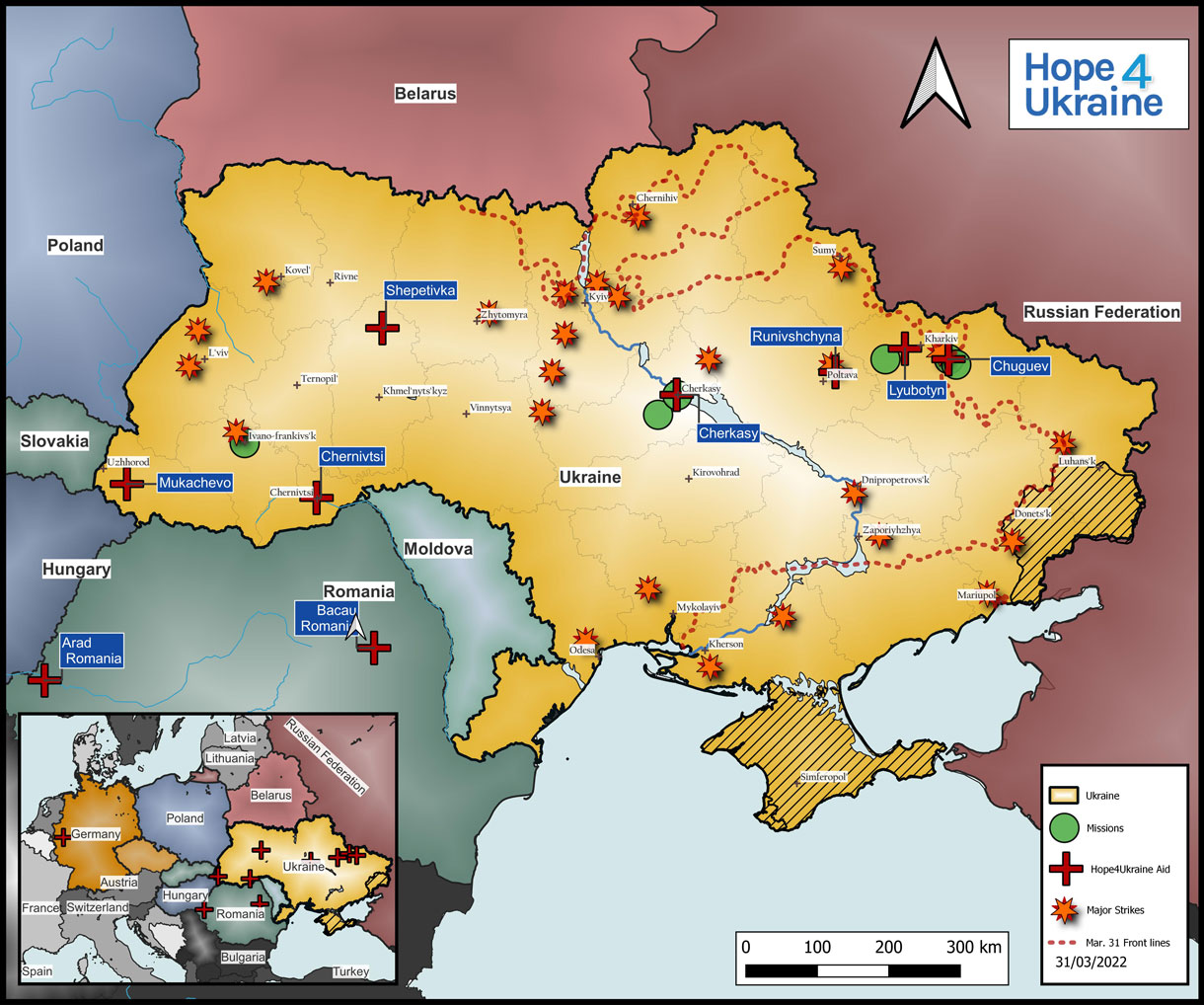 Here are a few of the projects and organizations that we have provided assistance to.
| | |
| --- | --- |
| Project | Location |
| Purchased at least 14 vehicles for aid workers. Cargo vans, 4×4 off road, and even an ambulance. | Ukraine |
| Nearly 50,000 plastic bags have been imprinted with our logo and the Bible verse John 11:25. | Ukraine |
| Many tens of thousands of tracts have been printed and distributed along with food parcels. | Ukraine |
| Truck loads of canned meat items are being imported from Europe. | Ukraine |
| Freight and distribution costs are paid on truck loads of humanitarian aid donated by others. | Ukraine |
| Many individuals have received donations to purchase medication, food, and other necessities of life. | Ukraine |
| Firewood and generators have been purchased. | Ukraine |
| Fifty wartime cook stoves are being provided to needy families. | Ukraine |
| Refugee camp in Moldova | Moldova |
| Andrei Behlen, organizing transportations to Kharkiv, Zap, and more. | Ukraine |
| Unregistered Baptist Church organization in multiple oblasts. | Ukraine |
| Project 143 – Orphanage in western Ukraine | Ukraine |
| Giving Perspective to Handicapped People | Germany |
The Past – In 1922 the Ukrainian homeland of the Russian Mennonites lay desolate, ravaged by war and the famine that followed. Cold winter weather and disease combined to take a heavy toll on the local population.
The hearts of the Holdeman Mennonites in Canada and the USA were turned toward those living in Ukraine and many desired to help as they joined hands with other Mennonite groups to make it possible. Food, clothing, and even tractors were sent.  Messenger of Truth articles were published instructing the members to open their hearts and encouraging the "father to dig deep into his pockets once more and provide the wherewithal to buy"[i] the necessary provisions for clothing. Collections were also published in the Messenger of Truth.
In the county seat of Halbstadt, Molotschna colony, an American relief visitor estimated that only "one child out of ten has anything looking like shoes."[ii]
In response, the congregation at Swalwell, Alberta, and Drake, Saskatchewan, sent 150 pounds of soap and 680 pounds of shoes! This was documented in an article called "Clothes for Russia" published in the September 6, 1922 issue of the "Mennonitsche Rundschau."
Kitchens were set up at various places in present-day Ukraine, including the Chortitza and Molotschna colony areas and hungry people were given food.
The Present- Sadly, the events of 1922 are once again all too real in 2022. War, cold weather, and lack of food and electricity have made the situation in Ukraine dire. Across the country, many people are trying to find sustenance and safety for themselves and their families.
In the area surrounding the former Molotschna colony in eastern Ukraine, some have no gas to keep their houses warm in the sub-freezing temperatures. Others are needing food with some even lacking water. Refuge from shelling is sought in cellars and basements.
In Molochansk, formerly Halbstadt, the Mennonite Centre can provide some of these basic provisions to people of all ethnicities from its office in the restored Mennonite Girl's School, a beautiful brick building, shown here in 1914.
[i] Messenger of Truth, May 16, 1922
[ii] Orie O. Miller, The Orie O. Miller Diary, 1920–1921 (Kitchener, ON: Pandora Press, 2018) 53.